audio sample (Deliciosa Polka; more samples on each CD page)
for booking, email or call Bill at 413-442-9172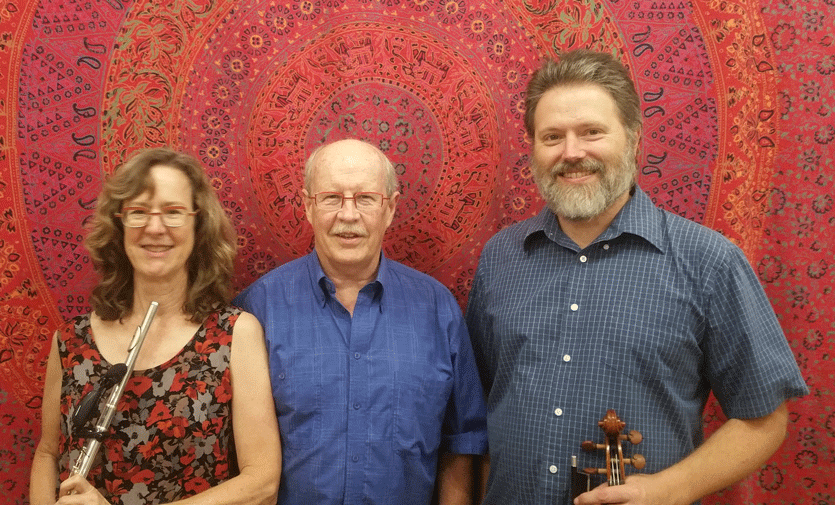 Spare Parts has performed for period events, contradances, English dances, weddings, parties, concerts, and dance camps from Alaska to Maine. Our historic dance music has been used worldwide in motion pictures (Bright Star) and theater productions as well as television programs including Mercy Street (PBS), Antiques Roadshow and numerous programs on the History Channel (even SpongeBob SquarePants!).
Bill Matthiesen on piano and Liz Stell on flute combine with one or more "spare parts du jour." Some of our favorite "spare parts" include fiddlers Eric Buddington, Ruthie Dornfeld, George Wilson, Naomi Morse, Frank Orsini, Mark Bagdon, Cathie Whitesides, Susan Conger and Rebecca McCallum ... and bassists Mark Murphy and Larry Unger.
2022 schedule:
March
Friday, March 4
Waltz-a-Thon (https://ashokancenter.rallyup.com/)
3-hour virtual concert to raise funds for the Ashokan Center. Tune in live and waltz along with friends from around the world. Jay and Molly host videos of Spare Parts and many other talented folks playing waltzes, 7-10 pm EST.
April
Tuesday, April 19, Lenox, MA
Gilded Age concert and dance performance at Ventfort Hall, to benefit The Tuesday Club. Spare Parts plays music for dance performances by Marc Casslar and Martha Griffin, 5 pm.


Friday, April 29 through Sunday May 1, Brasstown, NC (https://classes.folkschool.org/)
English Country Dance Weekend at the John C. Campbell Folk School; music by Spare Parts, also Dean Harrington with Rebecca McCallum and Mara Shea; calling by Brooke Friendly and Bridget Whitehead

June
Saturday, June 25, Scranton, PA
Annual Grand Civil War Ball at the historic Waverly Community House.

September
Saturday, Sept 17, Pittsfield, MA
Arrowhead Community Day at the home of Herman Melville, with mid-19th-century music by Spare Parts.

November
Saturday, Nov 12, Jamaica Plain, MA (lcfd.org/harvest-ball.html)
24th Annual Harvest Ball: Gender-role-free Victorian ball, with Eric Buddington on violin and calling by Chris Ricciotti; elegant, period, or festive attire encouraged but not required; elegant waltzes at 7, followed by chestnut contras, quadrilles, mixers and couple dances
masks required this year

December
Saturday, December 17, Lenox, MA (www.lenoxcontradance.org/)
Contradance at the Lenox Community Center, Liz and Bill with fiddler Eric Buddington and Mark Murphy on bass, caller TBA, 7:30-10:30 pm (intro lesson at 7:15)
check website for update on masks