North Adams' Eric Buddington switches effortlessly between fiddle and violin. He excels at Argentine tangos, waltzes and milongas; he also joins Spare Parts for Regency balls, Ragtime balls and English country dances as well as contras and concerts. He performs with us on The Regency Ballroom and Returning Heroes CDs. Formerly (and occasionally still) with the Flying Garbanzos, Eric also performs with several other ensembles.
Naomi Morse lives in Brooklyn and plays gutsy violin on everything from French Canadian Reels to English country dance to ragtime. She joins voices with husband Emmet McGowan to perform as The Poor Cousins. Naomi fiddles and sings with a variety of musicians and as part of Housetop and Night Watch.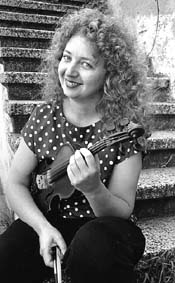 Seattle-based Ruthie Dornfeld plays contras and couples dances with Spare Parts. She created wonderful orchestrations for our Returning Heroes CD; she also performs ragtime music with us on Now Tango. Fluent in a wide range of styles from Celtic and old-time to Scandinavian and Eastern European, Ruthie has performed and taught for 30 years at festivals, schools, and camps throughout the U.S. and abroad. Ruthie also plays in the French cabaret band Rouge. (photo: Anne Hamersky)
Frank Orsini of Glens Falls, NY, has been fiddling for contradances in New York state and New England since the 1970s. Popular for his fiddlistic improvisations and wonderful harmonies, his versatility extends to swing, bluegrass, cajun, English and various Celtic styles. Frank also plays with the Whippersnappers, Walt Michael and Co., Saratoga Faire, the Upstate Bluegrass Band and others. He performs with us on The Civil War Ballroom CD.
Seattle fiddler Cathie Whitesides joins Liz and Bill for couples dances and contras on their almost-annual Seattle tour. She spins out fiddle traditions from Eastern Europe to East Texas. Cathie also performs with Laurie Andres and Bob McQuillen, the Balkan Kafe Orchestra, and Hank Bradley. (photo: Ted Crane ©2002)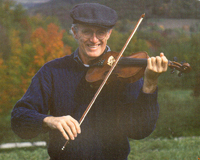 Famous for dynamic fiddling, George Wilson has been entertaining contradancers and concertgoers since the late 1970s. His playing is strongly influenced by Cape Breton and French Canadian styles A multi-instrumental virtuoso and singer, he also performes with Fennig's All-Stars, the Whippersnappers, Selma Kaplan and Taconic Tonic. Liz and Bill appear on his Northern Harmonies CD.
(photo: Bill Matthiesen)
Mark Bagdon of Delmar, NY, switches effortlessly from from fiddle rags to Strauss waltzes. He has performed Ragtime and Gilded Age balls with Spare Parts, as well as contras and English dances and even Argentine tango milongas. (photo: Ted Crane ©2001)