audio sample (Deliciosa Polka; more samples on each CD page)
latest CD: Returning Heroes
for booking, email or call Bill at 413-442-9172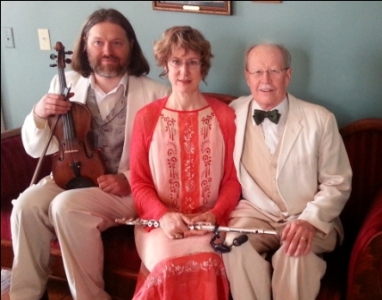 Spare Parts has performed for social dances, concerts, period events and dance camps from Alaska to Maine. Bill Matthiesen on piano and Liz Stell on flute combine with one or more "spare parts du jour." Some of our favorite "spare parts" include fiddlers Eric Buddington, Ruthie Dornfeld, Naomi Morse, Frank Orsini, Mark Bagdon, Anne Hooper, Cathie Whitesides, Susan Conger, George Wilson, and Rebecca McCallum ... cornetist Peter Ecklund ... and bassists Ben Davis, Mark Murphy and Larry Unger.
2015 schedule:
June
Saturday, June 6, Peterborough, NH (information: 413-369-4369 or zakon-anderson@comcast.net)
Contra Dance to celebrate Mike and Barbara Gilman's 60th wedding anniversary! featuring: Bob Isaacs and Steve Zakon-Anderson with music by Spare Parts and Tidal Wave, 6-midnight

July
August
Saturday, August 1, Windham, NY (www.eventcrazy.com/Windham-NY/events/)
When Johnny Comes Marching Home: An 1865 Music Tribute To Our Returning Heroes, 7:30 pm; Grand Concert is part of a weekend-long music gathering. Contact John Quinn for more details: jcquinn@webtv.net


Sunday, August 9, Nahant, MA (vintagevictorian.com/)
La Bella Cubana: Vintage dance music from Cuba and beyond, 1 pm concert of late 19th and early 20th century music, followed by afternoon tea and dancing; attire of late 19th or early 20th century is especially welcome


Saturday, August 15, Lenox, MA (www.lenoxcontradance.org/)
Contradance at the Lenox Community Center, Liz and Bill with fiddler Eric Buddington and caller Katy Heine, 8:00-11:30 pm


Saturday, August 29, North Bennington, VT (http://parkmccullough.org/)
Sesquicentennial celebration for the Park-McCullough House, with music by Spare Parts. More detail soon...