audio sample (Deliciosa Polka; more samples on each CD page)
latest CD: Returning Heroes
for booking, email or call Bill at 413-442-9172
Spare Parts has performed for social dances, concerts, period events and dance camps from Alaska to Maine. Bill Matthiesen on piano and Liz Stell on flute combine with one or more "spare parts du jour." Some of our favorite "spare parts" include fiddlers Eric Buddington, Ruthie Dornfeld, Naomi Morse, Frank Orsini, Mark Bagdon, Anne Hooper, Cathie Whitesides, Susan Conger, George Wilson, and Rebecca McCallum ... cornetist Peter Ecklund ... and bassists Ben Davis, Mark Murphy and Larry Unger.
2014 schedule:
September
Fri. Sept. 19 through Sun. Sept. 21, Silver Bay, NY (http://www.danceflurry.org/events_adirondack)
Adirondack Dance Weekend on beautiful Lake George featuring contras, English country, waltzes and couples dances. Spare Parts plays contras and couples dances with Eric Buddington and Mark Murphy. Also playing this year are The Free Raisins, Karen Axelrod and Bare Necesseties (English); tango instruction by Kevin Magee; callers are Bruce Hamilton, Mary Wesley, Melissa Running and Rebecca Lay

October
Saturday, Oct. 4, Winsted, CT (http://ragtimeballwinstedct.weebly.com/)
Ragtime Ball: travel back in time to when the U.S. entered the Great War; period attire (ca. 1917) encouraged to match the setting, the historic Winsted Elks Lodge
afternoon dance workshop with Martha Griffin 2-4 pm


Saturday and Sunday, Oct. 11-12, near Cape May, NJ (for information: 609-889-2168 or CpMyVicDan@aol.com)
Vintage Dancing in the Villas: a weekend of ragtime dancing and other events, with Naomi Morse on violin and precepting by Jan and Al Seabra, preregistration required
Friday 8 to 11 pm: Welcome Dance to CD music (vintage or modern casual)
Saturday 12 to 4 pm: Zoo stroll and picnic lunch
Saturday 8:30 to 11:30 pm: Ragtime Ball with Spare Parts
Sunday 1 to 3 pm: Ragtime Tea Dance with Spare Parts


Saturday, Oct. 18, Peterborough, NH
Peterborough Fall Ball: 12 hours of dancing!

November
Sunday, Nov. 2, Wethersfield, CT (www.hcdance.org/waltz.htm)
Mostly Waltz dance with Bill & Liz featuring waltzes, waltz mixers, and other couple dances (every 3rd tune is a tango, foxtrot, swing tune, or other couple dance),
3-6 pm preceded by free lesson


Friday, Nov. 7, Bennington, VT (www.benningtondance.org/)
Contradance with Eric Buddington and caller Danielle Boudreau


Saturday, Nov. 8, Jamaica Plain, MA (lcfd.org/harvest-ball.html)
17th Annual Harvest Ball: Gender-role-free Victorian-era ball with Eric Buddington and calling by Chris Ricciotti
elegant, period, or festive attire encouraged but NOT required.
candlelit potluck supper 5:30 pm; dessert potluck about 9:30 pm
warmup waltzes at 7 p.m.; dance features elegant contras, squares and couple dances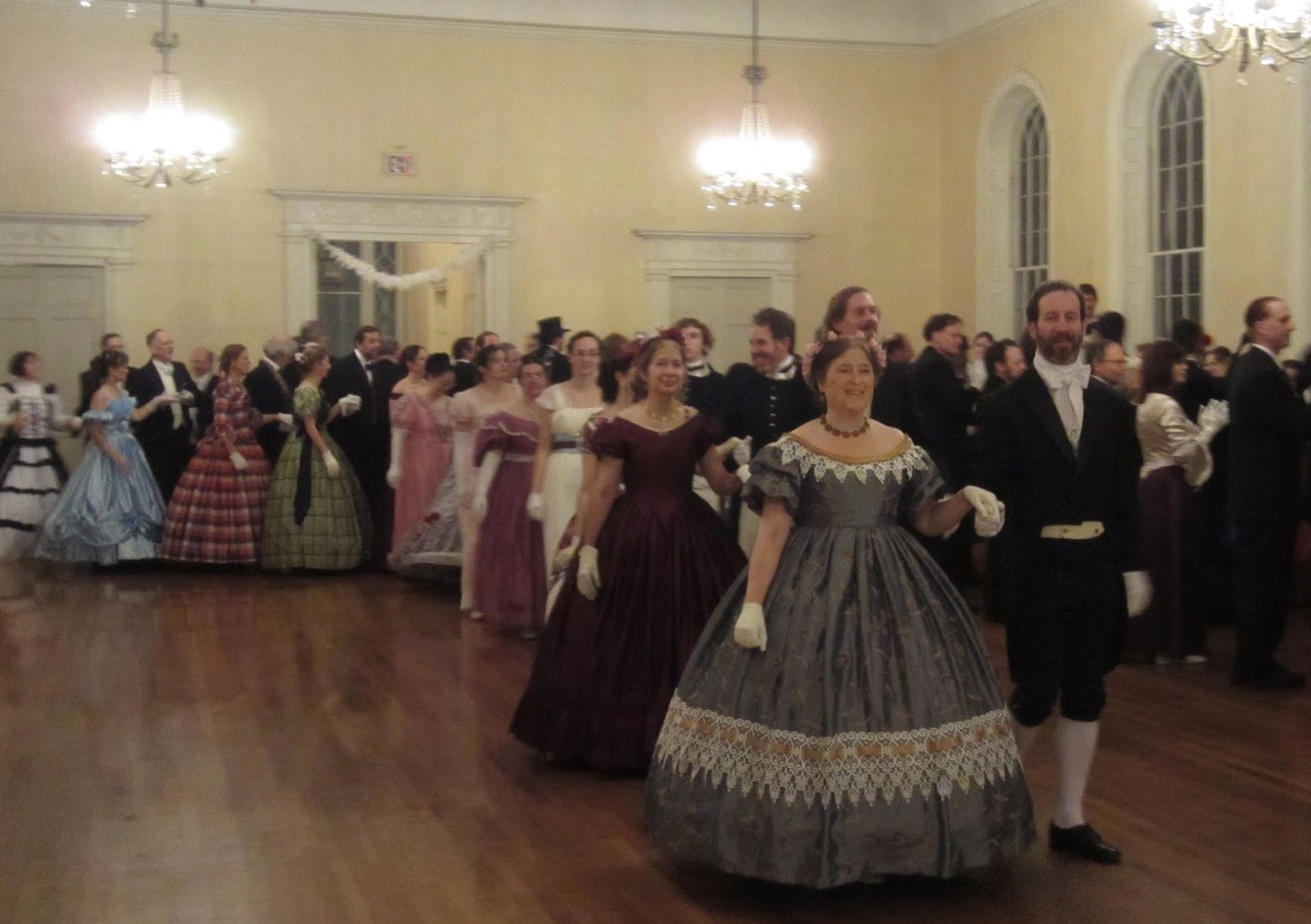 December
Friday, Dec. 5, Stockbridge, MA
Holiday Marketplace Cocktail Receptionat the Berkshire Botanical Garden with music by Spare Parts


Saturday, Dec. 13, Salem, MA (www.vintagedancers.org/)
Fezziwig's Ball: an evening of Dance and Merriment from the era of Dickens, with Susan Conger on violin; sponsored by the Commonwealth Vintage Dancers; costume from the lifetime of Dickens (1812-1870) or modern evening dress requested
dancing starts at 7 pm, following a lantern procession through town


Sunday, Dec. 14, Trenton, NJ (www.princetoncountrydancers.org)
The Princeton Country Dancers Winter Cotillion:
5:00 pm candlelit potluck dinner; 6:30 pm seasonal entertainment by local dance teams and carol singing for all;
7:00 - 10:00 pm contra and English dancing, with Naomi Morse and a cavalcade of callers, plus
a concert by the Cotillion Singers and dessert potluck at the break
Festive or spiffy dress encouraged


Tuesday, Dec. 16, North Adams, MA
Storey Publishing Holiday Party with music by Spare Parts