For almost 25 years Liz Stell and Bill Matthiesen have been researching, recording, and performing all types of dance music: contra and English country, 19th century and ragtime, waltzes and couples dances, tangos and milongas. They've played for concerts, contradances, Mostly Waltz events, milongas, and Victorian and other period events in over 20 states and provinces. In October of 2000 they traveled to Buenos Aires for research and met with music collectors and "guardia vieja" (old guard) musicians.
Bill's Waltz Books have become classics for dance musicians. Years of research on ragtime-era tangos culminated in a solo piano recording, Tango Viejo, plus a concert at the Kennedy Center and a book for Mel Bay Publishing, Argentine Piano Tangos for Keyboard. In 2006 Liz and Bill published a collection of mid-19th century sheet music, The Civil War Ballroom Band Book. In 2011 they published Patri Pugliesi's dance manual, Pugliese's Dances for the Civil War Ballroom. They've also produced six recordings of dance music.
New CD!
Returning Heroes: More music for the Civil War ballroom
Dance Camps, Weekends & Festivals:
Dance Flurry (NY)
Cascade Contras (OR)
Adirondack Dance Weekend (NY)
Old Songs Festival (NY)
Scott Joplin Festival (MO)
John C. Campbell Folk School (NC)
Cincinatti Vintage Dance Week (OH)
Ralph Page Legacy Weekend (NH)
Alta Sierra (CA)
Hubbard Hall Fiddle Weekend (NY)
Spring Dance Weekend at Circle Lodge (NY)
DownEast Country Dance Festival (ME)
NEFFA (MA)
Albany First Night (NY)
Berkshire Mountain Music & Dance Party (MA)
Civil War Ladies Conference (VA)
Swing and Hey (CA)
Camp Damp (AK)
October Dance Weekend (Ontario)
May Madness ContraFest (AZ)
Hands Four Spring Weekend (NH)
Cape May Victorian Weekend (spring & fall, NJ)
Shepherdstown Spring Waltz Weekend (WVa)
for information and booking
contact Spare Parts at
bill@bfv.com
or 413-442-9172

return to Spare Parts home page
some of our favorite SPARE PARTS:
North Adams' Eric Buddington switches effortlessly between fiddle and violin. He excels at Argentine tangos, waltzes and milongas; he also joins Spare Parts for Regency balls, Ragtime balls, and English country dances as well as contras and concerts. He performs with us on The Regency Ballroom and our upcoming Returning Heroes CD. Formerly (and occasionally still) with the Flying Garbanzos, Eric also performs with several other ensembles.
Frank Orsini lives in Glens Falls, NY, and has been fiddling for contradances in New York state and New England since the 1970s. He's popular for his danceable rhythm, fiddlistic improvisation and wonderful harmonies. His versatility extends to Swing, Bluegrass, Cajun, English and various Celtic styles. Frank also plays with the Whippersnappers, Walt Michael and Co., Saratoga Faire, the Upstate Bluegrass Band and others. He joins Spare Parts for contras, English dances and Civil War balls and performs with us on The Civil War Ballroom CD.
Seattle-based Ruthie Dornfeld plays contras and couples dances with Spare Parts. She created wonderful orchestrations for our upcoming Returning Heroes CD; she also performs ragtime music with us on Now Tango. She's fluent in a wide range of styles from Celtic and old-time to Scandinavian and Eastern European. Ruthie has performed and taught for 30 years at festivals, schools, music and dance camps throughout the U.S. and abroad. Ruthie also plays in the French cabaret band Rouge. (photo: Anne Hamersky)


Mark Bagdon of Delmar, NY, switches effortlessly from from fiddle rags to Strauss waltzes. He performs Ragtime and Gilded Age balls with Spare Parts, as well as contras and English dances and even Argentine tango milongas.
(photo: Ted Crane ©2001)
Seattle fiddler Cathie Whitesides joins Liz and Bill for couples dances and contras on their annual Seattle tour. She spins out fiddle traditions from Eastern Europe to East Texas. Cathie also performs with Laurie Andres and Bob McQuillen, the Balkan Kafe Orchestra, and Hank Bradley.
(photo: Ted Crane ©2002)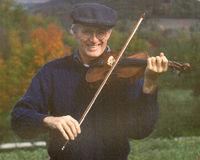 Famous for dynamic fiddling, George Wilson has been entertaining contradancers and concertgoers since the late 1970s. His playing is strongly influenced by Cape Breton and French Canadian styles He's a multi-instrumental virtuoso and singer who also performes with Fennig's All-Stars, the Whippersnappers, Selma Kaplan and Taconic Tonic. Liz and Bill appear on his Northern Harmonies cd. (photo: Bill Matthiesen)